I've been scribbling people for 4 years now; they've been of people I see on the streets, in line at Starbucks, on the bus or people I create in my head. Either way, I'm creating a "personality portrait" of them, I don't necessarily sketch what they exactly look like, but I capture their spirit in a non-traditional way. That is what I'd like to do for YOU!
I was asked to create a dozen custom Scribbles that were to be gifted to a group of professional women. The woman who commissioned the Scribbles said that they didn't need to resemble the women but they should represent the vibe of these successful women who were creating a difference in their community and the world. It was a wonderful challenge that I enjoyed the process immensely, and I hear the women who received them all chose one that reflected who they are and their story. Kismet I think!
After this experience I decided I wanted to offer more custom Scribbles to people who had a someone they wanted created. Now you too can purchase a custom "Stef Scribble" of a loved one or someone you admire.
A custom Stef Scribble is the "essence" of the person, not an exact portrait. I try to convey "who" they really are through watercolor and illustration. A personality portrait, capturing the spirit of the person.
Here's how it works:
Purchase your custom Stef Scribble by using the Purchase button below - each custom Scribble is $100.
Once you make the purchase you'll be sent a questionnaire to fill out with as much information about this person as you think I need — likes, loves, careers, family, favorite movies, pets, life stories and etc.
I'll develop the custom Scribble from there and begin the sketching and the painting.
Within 1-2 weeks I'll deliver a finished watercolor illustration on a piece of 5x7 archival watercolor paper with a black matte and their "story" printed on the back.
If you have ANY questions please reach out ~ I'm happy to explore this process with you.
Want a better idea of how it works?
This is Becky Belul. Her daughter Sherry commissioned me, and I received a photo and a brief bio, and then started sketching. Finished piece, on the right.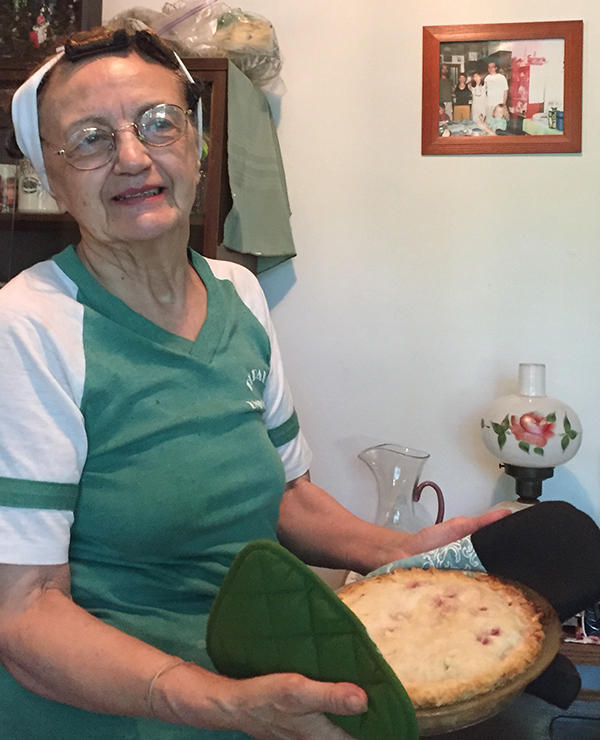 Becky is almost 80, but still participates in water balloon fights, dance parties, and theme dinner nights with so much zest.
She LOVES dance parties when her niece and daugher are there! They sometimes choreograph the dances and wear goofy costumes.
She loves to ride the carousel at Conneaut Lake Park and will always wear her Conneaut Lake Park tee shirt when they go.
She makes amazing pies and used to sell them at the Flea market.
Oh, my! I absolutely LOVE the Stef Scribble that I commissioned of my mom. Stef captured her spirit so beautifully and I love the small extra touches that really brought the illustration to life. The process of working with Stef was really fun — I couldn't believe how quick and easy it was! What I love best about this commissioned art is that although it is a present for my mom, it is also a gift for myself. I will always treasure the artwork and story that Stef created in honor of my wonderful mom. It's such a unique way to pay tribute to someone I love so much. Thank you, Stef! I'll be back for more! And I can't wait to share your talents with everyone in my Simply Celebrate world who love to know about creative, heartfelt gifts like this.
—Sherry Richert Belul, founder Simply Celebrate
If you have ANY questions please reach out, I'd be happy to explore this process with you.