JUMPSTART YOUR ART & CREATIVITY
Create a Daily Creative Practice
I've been committed to a creative daily practice for over 10 years now. I started by taking a photo a day and then moved to sketching and watercolors and still photography. Through it, I have produced over 800 pieces of art (#stefscribbles on Instagram). This daily, creative habit has sharpened my skills and boosted my confidence. The meditative, just-for-me time has pushed me through creative blocks and made me a happier person. It's a way to keep my sanity in this fast - paced over stimulated (technology crazed) society on top of being a mom! It keeps my spirit alive. It's not just about creativity and "making something", it's about keeping depression at bay.
You can do this, too!
I know — it may seem like you don't have the time, or you don't know what you would do. Or — gasp! — think you're not creative. But I believe we are ALL creative and it can take as little as 15 minutes a day to build a creative practice (Think about how much time we waste perusing social media). That time can be spent on YOU and dedicated to bringing more creativity into your life.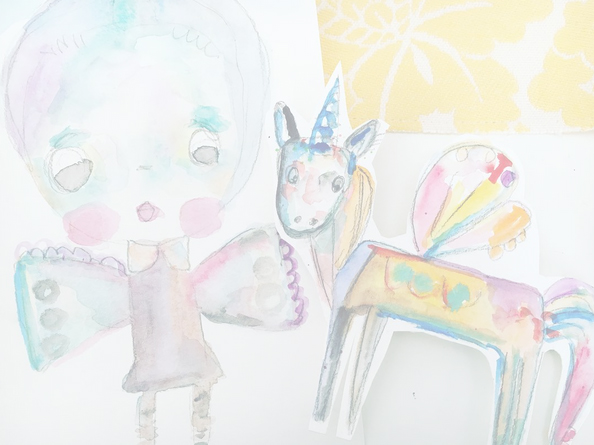 I've really enjoyed being a part of Stefanie's Jumpstarts. She provides Wonderful Prompts that have helped me push myself. It's so much fun to see what the other participants come up with on the Facebook page and Instagram. I've made new friends and have learned new techniques.
— Christine B.
You will receive informational emails and videos from me every day for 30 days. In them, I will share with you how to set yourself up for success, and how to maintain a daily practice. There will be experimenting with all kinds of mediums (writing,drawing, photography, painting to name a few) nature art, pushing past our comfort zones.
I'll teach you how to get out of ruts, and self-sabotaging moments.
I'll give you tips, tricks, prompts, inspiration and ideas on how to start, and most importantly—how to keep it going.
It's all about creating that habit. If you miss a day, then you keep going the next. It's not about perfection, it's about feeding your creative spirit. I personally started out with a photograph a day, and my practice has evolved into a creative life. My sketches and watercolors are truly something that enrich my days, and have become an integral part of who I am.
You don't need experience or special tools. A pencil, a pen and some paper is great!
My goal? For a lift in your spirit, a light in your heart and some fun, creative moments throughout your 30 days! For you to establish a habit of daily creativity that you can take into the rest of your life!
Not sure what you would do?
We will experiment with different mediums and see where you want to land. It can be as easy as picking up a pencil and paper and just making that first mark! Try a variety of things from — drawing, knitting, painting, collage, photography... it's more about creating a daily habit than the medium itself. Even if you're an established artist, this time spent can give you the space to try something new. Just think—30 days of a simple practice could give you an entire collection of work, along with fresh ideas for different creative pursuits. Most of all, it will teach you how to begin and maintain your creative practice. Giving yourself this gift will show up in more ways than just the finished piece!
Ready to join me?
Next facilitated class TBD. Sign up for my newsletter for future class dates.
40$
Stefanie's Jumpstart Your Art workshops have been transformative for me. I started taking them thinking of myself primarily as a writer, and she's helped me to see that I can experiment with many other art forms, as well. I recommend Jumpstart Your Art for anyone — whether you think of yourself as an artist or not. Stefanie helps light a creative fire that will keep you making, designing, and imagining long after the workshops end.

— Vivian W.
Once you sign up!
You'll receive a "Welcome" email with information on how to prepare, some suggested ideas, and an invitation into the private Facebook group. In this group, we'll be able to share our work and cheer one another on. Accountability is vital to this practice.
I'll be available for questions via the Facebook group and you'll enjoy being part of a community of like-minded people. I will be sharing my work, and look forward to seeing what you create! This is a fun, safe group of fellow creatives.
I can't wait to begin this journey with you!
FAQs:
What kind of art supplies will I need to start?
You can use anything you have on hand to start. What inspires you? Is it drawing, knitting, painting, photography, sketching, or collage? With an open mind, there really are endless means. Peter Reynolds' book, "Dot" is the best example of this. Start with a mark and see where it takes you. Feeling pressure? Get out of the house —walk in a new direction. Notice the colors of the trees, or an interesting plant. When was the last time you did that? Really wandered. Let nature inspire you!
Do I have to share my work?
Absolutely not. But showing your work can really help with keeping up the practice. Be it in the private Facebook group or Instagram (we will have our own #hashtag for the class to use), sharing your work and having others see what you're doing can be inspiring on all levels. Be brave!
What if I get stuck and really don't know what to do?
I'm here to help you get over the hurdles. From the exciting first few days, to the third or fourth week, a daily practice takes muscle. That's where the daily emails will help. I'll give you prompts and pushes to get you over any slumps, and help you to the other side. It's not meant to be work, it's meant to feed your spirit!
What if I can't start with the group or I'm on vacation for a week? Can I still participate?
Yes, you sure can. Since this is all email based, you can start whenever you can and jump into the Facebook group when you feel called. And even if you are on vacation you can still have a daily creative practice while you're away!
All of this for just
It's going to be FUN!
Next facilitated class TBD, sign up for my newsletter to be notified when class begins
40$
WHAT YOU GET:
30 days of emails & videos with show and tells, tips, tricks, prompts, inspiration and ideas on how to start, and most importantly—how to keep it going
Private Facebook group for support and accountability
If you have any questions, contact me: stefanierenee30@gmail.com